Old Tech - Vintage Synthesizer Site
Moog Taurus Pedal Synthesizer
Information from
Moog Literature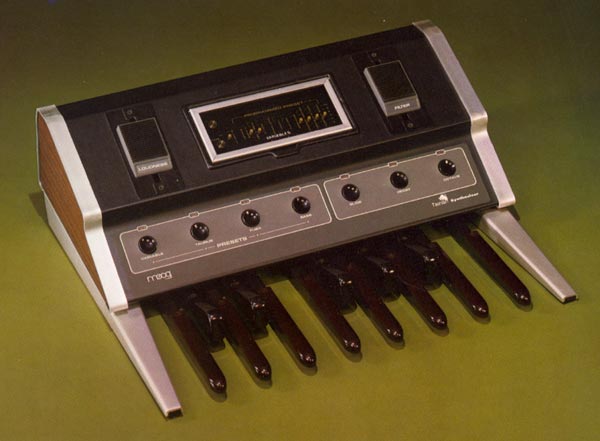 From a 1980 Moog Flyer
The Moog Taurus Pedal Synthesizer lets you make music with your feet while your hands are busy playing keyboard, guitar, or drums. The Taurus has three programmed voices and a voice that you can program completely In performance you can select a Moog voice or your voice instantly The Taurus is a variable synthesizer that features two audio oscillators to create phasing effects, parallel intervals, and rich percussion sounds. In addition, functions like glide, decay and pedalboard octave may be switched by foot during performance. And its five octave range makes Taurus more than a bass instrument. Add another dimension to your control over sound—add a Moog Taurus 1 pedal synthesizer.

TAURUS FEATURES
Three pre-programmed synthesizer voices: Bass, Tuba, and Taurus
• One fully programmable voice. You create the sound and pre-set it yourself.
• Five octave range—16' 8' 4' 2' and 1'
• Foot sliders for loudness and tone color variation.
• Ultra stable oscillator design: less than one cent (0.06%) short term drift, less than two cents (0.18%) long term drift.
• Electronic preset selectors. Presets never have to be cancelled.
Moog Taurus Moog Taurus Flyer
Moog Taurus Owner's Manual Description, Block Diagram & Programmed Preset Diagram
Moog Music Custom Engineering Big Briar, Inc.(Bob Moog today)
(From The Terrey Collection of Literature)
---
Old Tech Home Old Tech Synth Site Home
Old Tech - Books & Things, P.O. Box 803, Carlisle, MA 01741
Tel: (978) 371-2231; Fax: (978) 371-7129; Email: jvt@oldtech.com
John V. Terrey, Proprietor
The information on this site is believed to be correct, however, use at your own risk.
Copyright 1999 John V. Terrey. Unauthorized use of any of the contents is in violation of copyright law.
Site designed on Macintosh computer using GoLive, ImageReady, Filemaker, Photoshop.
Scanner: Agfa T-1200. Camera: Agfa CL50.